Covering the context, conflicts and consequences of the 2009 Oakland Rebellions
Back in March of 2009, our heads were still spinning after participating in a beautiful anti-police revolt and finding ourselves in a fundamentally transformed local terrain of social struggle that took shape in the aftermath of the rioting. We chose to release Unfinished Acts as a way to share our experiences as anarchists and antagonists within the rebellion and to help spread the contagion of revolt. Over three years later, we are once again excited to release Unfinished Acts, this time with significant additions, updates and a much needed copy and design edit!
This 2012 revised edition includes the following additions to the story of the Oscar Grant riots: a new preface, a lengthy forward tackling our project to destroy whiteness in the rebellions and beyond, a brief history of OPD, an analysis of our local enemies on the Left, a new account of anarchists' roles in the rebellions, an overview of anti-police movements near and far, the text "You Can't Shoot Us All" with a new introduction set as the conclusion to the publication and new illustrations and photos.
Please distro widely and replace previous versions of the publication with this final revised edition!
Links:
Unfinished Acts 2012 – high resolution PDF for printing
Unfinished Acts 2012 – low resolution PDF for viewing on-screen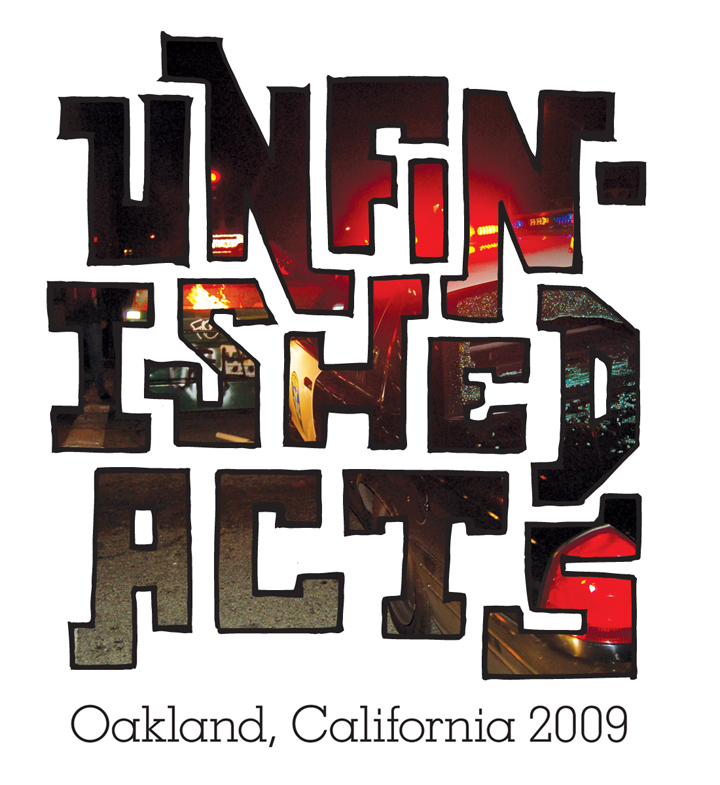 Revised Edition Production Notes >